Erik Scott Johnston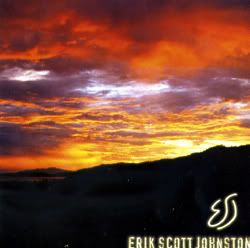 Where in the world is Erik Scott Johnston (not to be confused with guitar god,
Eric Johnson
)?
His website is down, I can't find his CDs on
CD Baby
any longer and
google
hasn't turned up any fruitful information. In this day in age, it's almost impossible to hide...
Johnston, a Texas native from Plano who graduated from the
University of Texas at Austin
with an economics degree in the Fall of 2000 was one of those people you really wanted to hate, but couldn't due to his lovely personality. And no, I'm not dripping with sarcasm. He really was a cool guy....
We were in orchestra together and also shared a Real Analysis and Algrebraic Structures course. If I recall correctly, he was double majoring in mathematics at the time. Erik was someone I considered a
polymath
(another fellow classmate
Felica Day
, who was also math/music major and is now an actress, deserves that title as well... ) Although it's typical for math types to excel at music, Erik was beyond just skilled--he was fucking gifted in my opinion.
Remeber that party scene in
Amadeus
where Mozart would entertain people by taking a tune and reproducing it in the style of any composer named? Erik could do that. One of my favorites was his jazz variations on
Flight of the Bumble Bee
. On any given evening at the Student Union, Erik would serenade the masses at the piano seducing plenty of college gals (and guys) as his sweet tunes drifted through the building. He became such a fixture that the
Daily Texan
featured an article on him back in 1998.
In 2000, he released an album of original piano compositions. The music is very film score like and easy to listen to, full of suprises and technical agility. I was hoping for more from him in the future, but for now, I'll have to wonder if he's been sucked into the drudgery of the work world and just hasn't had time to devote to his music. :(
I hope not, so if you read this, Erik, holler and tell us how you are doing.
Listen to:
"Sound and the Fury"
"Intergallactic Butterflies"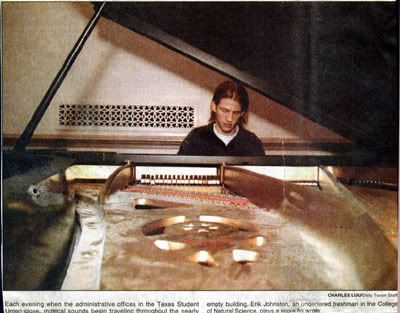 (photo by Charles Luu from
Daily Texan
)